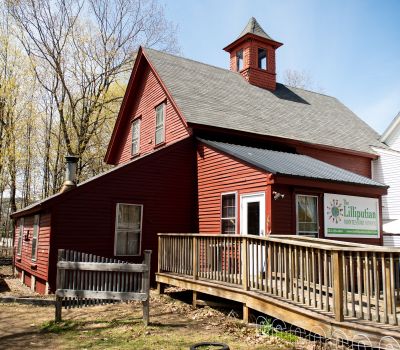 The Lilliputian Montessori School has been providing a unique and magical learning environment for the children of Mount Washington Valley for 3 decades. This special school has seen hundreds of children interact with its special teachers, a dedicated team with an astounding length of service with the school.
The Lilliputian Montessori School was established in North Conway in 1983. After many years in the town center, the school relocated to the Jackson Community Parish House in the Fall of 2002, occupying a small space behind the church. Our teachers were responsible for setting up and breaking down the classroom every Friday and Monday to make room for the Sunday School. A small playground by the river provided a wonderful setting for children to explore their world.
In 2011, smaller numbers of preschool-age children in the Jackson area prompted the school board to consider a move back to North Conway Village, a more central location in the valley. With only 3 months to make it all happen, the Board of Directors secured a location — a classic schoolhouse-style building on Seavey St, complete with a cupola and plenty of grassy playground space. With the help and support of local contractor and a massive parent volunteer effort, a new school was born in the summer of 2011. Over 20 parent volunteers devoted time, energy and money to the project, fully renovating the building, knocking down walls, installing plumbing, making signs, painting and cleaning. During this time, our amazing outdoor space was created as well, entirely by volunteering parents and family members. This project would see the addition of a custom privacy fence along the North-South Rd, the repainting of the playhouse to match the new school, a cedar swing, a homemade musical fence, and numerous natural playground elements.
The new location provides extra space and resources, allowing the hiring of a new teacher and the addition of Kindergarten-age children. We continue our journey here, at 65 Seavey Street, and welcome everyone to come visit our school. Our parents are kind, involved and invested in the future of our children, and that investment shows in every smile, every work project and every laugh on the playground.