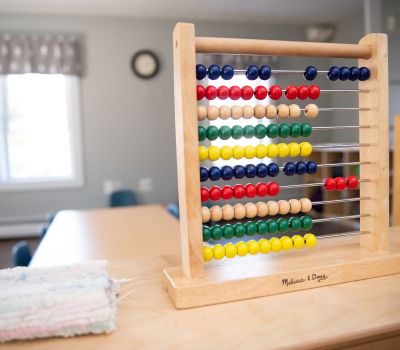 Our toddler program bridges the gap between home and school for a gentle transition.
Our toddler environment allows each child the freedom to safely explore their surroundings while learning through discovery. Rich in sensory and practical life activities, our toddler program aims to enhance not only each child's sense of wonder, but also their level of independence. Like the Preschool and Pre-K classrooms, our toddler room is broken down into content areas.
Practical Life:


"Help me to do it myself"- Maria Montessori

It is through meaningful activities such as food preparation, table washing, pouring, scooping children are learning to be more independent and proud of it. Through Grace and Courtesy activities such as serving snack, greeting friends and using manners, children are learning how to take care of their classroom community. Through care of self activities such as nose blowing, hand and face washing, dressing and toileting, children are an active participant in their daily care.
The toddler practical life area mimics daily rhythms and routines that they may see around the home. When children are involved in food prep, table setting, laundry folding and completing the work cycle (putting toys away when they are finished) they are learning to take care of their environment.
Our teachers take great care when planning practical life activities to ensure the developmental needs of each child are being met and children are challenged and engaged with the work.

Sensorial:
"The senses, being explorers of the world, open the way to knowledge. Our apparatus for educating the senses offers the child a key to guide his explorations of the world" Maria Montessori
The Sensorial area aims to bring the child's awareness to their 5 senses. These activities also help the child to strengthen their fine motor development and their ability to classify, clarify and understand the world around them.  It is rich with language as children learn to order cylinders and cubes by the visual nuance of thick to thin, tall to short, or large and small, order objects by sound from quiet to loud and learn to explore their tactile sense.
Language:

"The development of language is part of the development of the personality, for words are the natural means of expressing thoughts and establishing understanding between people" Maria Montessori
Our Toddler program is rich with language and it is not only limited to the bookshelf, storytelling and songs. Our teachers use the appropriate nomenclature and speak to children as they would colleagues, refraining from using baby talk. They encourage children to talk to each other to solve problems. New vocabulary is introduced daily.
Math:


Our toddler math area allows children to build a strong foundation in mathematical thinking through activities that enhance their senses. Expressions of time (before, after, today, yesterday etc.) ordering and sequencing activities will lead to the understanding of one to one correspondence and numeration. Some activities you will find in our math area include puzzles, nesting cubes, objects for sorting and counting, as well as objects for ordering and classifying. Some children will be working on numeral identification as well, although this is not typically introduced formally until the child is 3 years old.