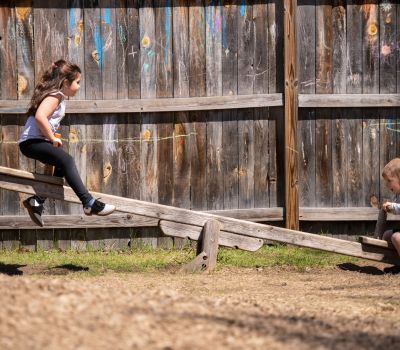 Dear Friends,
This year our beloved teeter totter came apart at the seams and one of our school families came to its rescue, making it new again! Our preschoolers are very excited to have it back in operation. Our playground spaces have seen a lot of activity in the last two years, and repairing the teeter totter may seem small, but it was a big deal to our students.
If we have learned anything from the past two years, it is that having outdoor classroom space is essential to our ability to offer quality childcare. More importantly, children's access to green space is a key component to healthy growth and development, especially social and emotional development. We are continually evaluating best practices as well as the quality of our learning environments, both indoors and outdoors. This year we will continue to focus on new play structures and materials for our outdoor classrooms in order to evolve with the needs of the children in our care. We are looking to raise $25,000 toward additional wooden play structures and outdoor materials that fit within the Montessori philosophy and provide our children with the enrichment and quality time outdoors that is essential to their development.
As we close out 2022, we are grateful for the ability to return to a somewhat "normal" school year. Our staff have worked diligently to manage all the ups and downs that have come with living and working through a pandemic. With support from our school community and beyond, Lilliputian Montessori School will celebrate 40 years of providing quality child care for the children of the Mount Washington Valley in the new year!
Fixing the teeter totter was just one small project which brought so much joy to our children and our school community. We have grand plans ahead! As the only Montessori early childhood education program serving our local area, we hope you will consider a donation to help us to continue providing quality early childhood experiences for the children of our community for another 40 years!
Please consider a donation to our Annual Appeal by utilizing our PAYPAL link for easy gifting: Click here!

If you would prefer to send a gift via check, they can be made out to "Lilliputian Montessori School" and our mailing address is: PO Box 275, North Conway, New Hampshire, 03860
Sincerely,
The Lilliputian Montessori School Board of Directors
Eliza Grant | President
Liz Freierman | Vice President
Kit Hickey | Treasurer
Kelly Evans | Secretary
Zachary Steveson | Member
Emma Carlson | Member
Lilliputian Montessori School is a 501c3 non profit organization. Our tax ID # is 54-2066902
As a nonprofit preschool, we continue to strive to keep our tuition costs affordable for local families. In order to maintain a healthy and sustainable school budget, fundraisers and annual appeals are an important piece of our financial puzzle. Thank you for considering making a donation towards our school!